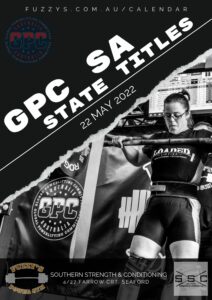 This is the South Australian GPC State Titles. This is a sanctioned event and national records can be set and broken. This competition will allow you to post a total for ranking, to qualify for the GPC Nationals in 2022.
This competition requires membership with GPC Australia 1 week prior to the competition. We will be checking entrants against the membership list. You can sign up at:
As this is a sanctioned competition, the rules will be run according to GPC Australia's rule book:
Lifters will be required to wear a soft suit as well as have appropriate belts and wraps.
Please do not hesitate to contact us should you have any questions.
WEIGH IN
24 hour weigh in option available Saturday, 21st of May from 11:00am-12:00pm.
Day of weigh-in: Sunday 22nd of May, from 9:30am-10:00am.
SSC will be open from 9:30am on the day. Lifting will commence at 11:00am.