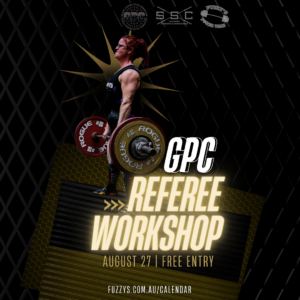 If you have ever wanted to be a part of powerlifting, now is the time. Become a qualified GPC referee and have a front-row seat at sanc
tioned events, SA and nationwide.
Learn the ropes from the experienced Fuzzy's Team in a supportive environment, to confidently give white or red lights for the squat, bench and deadlift.
WHAT: Workshop to teach you how to be a powerlifting referee. This workshop will equip you with the skills and knowledge to referee powerlifting competitions and in particular, will qualify you to ref GPC sanctioned powerlifting competitions.
WHEN: Saturday, August 27, 11:00am start (finish time approx. 1:00pm). Please arrive before 11:00am so that we can begin promptly at 11:00am.
WHERE: Southern Strength and Conditioning, 27 Farrow Circuit, Seaford SA
Registration is free and open to all.
To become a qualified referee, you must be familiar with theGPC rules. If you would like to familiarise yourself with the rules prior to the workshop, the GPC rulebook can be found here: https://gpcaustralia.com/assets/pdf/2021%20GPC%20Rule%20Book.pdf